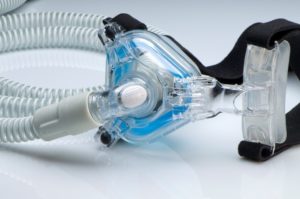 If you have obstructive sleep apnea (OSA), you understand the effects a good night's rest can have on your health and wellness. You rely on your CPAP to prevent breathing disturbances while sleeping to wake up in the morning feeling your best. It's easy to commit to your treatment plan when you're at home, but traveling can make it a little more difficult to commit to your nightly routine. Whether you're heading out of town for business or leisure, here are 6 tips to make traveling with sleep apnea a breeze. 
1. Review the Airline's Guidelines
If you are traveling by airplane, review the airline's security guidelines at least 2 weeks before your departure date to avoid delays when checking your luggage. Although a CPAP is a medical device, airlines have strict rules and regulations about what they allow to pass through security.
2. Bring a Copy of Your Prescription
Bring a copy of your prescription and carry it in your purse or wallet. Not only can it be helpful if you run into any complications while going through security, but it's not uncommon for luggage to get lost. Although you may never expect it to happen to you, your prescription will allow you to get a replacement if your CPAP should get lost along the way.
3. Check the Power Supply
If you are traveling outside of the country, check the power source of your destination before you leave. Not all countries use the same voltage or adaptors as the U.S. Consider bringing a universal power adaptor and extension cord with you to ensure nothing prevents you from plugging in your CPAP.
4. Pack Your Cleaning Products
Your CPAP must be cleaned regularly, even if you're away from home. Pack all the necessary cleaning products that abide by the sizes and quantities allowed by the airline.
5. Pack Carefully
Pack your CPAP carefully in your carry-on to avoid any damage. Not to mention, you can keep a close eye on your machine, so it's less likely to get lost along the way.
6. Consider an Oral Appliance
If you're concerned about traveling with your CPAP, ask your sleep specialist if you're a candidate for an oral appliance. A customized device will reposition the tongue and jaw to prevent an obstruction in the airway. It's a convenient, comfortable solution that can fit in your pocket, making it easy to manage your sleep apnea while you're on the go.
You don't have to lose sleep at night worrying about your sleep apnea treatment. You can rest easy with a little preparation before you leave.
About Dr. Gary Radz
Dr. Radz is an award-winning dentist known for his exceptional skills in cosmetic dentistry; however, he is also an expert in sleep apnea. He is a member of several professional organizations, including the Academy of Dental Sleep Medicine. If you need treatment for sleep apnea, contact our office today to request your consultation.