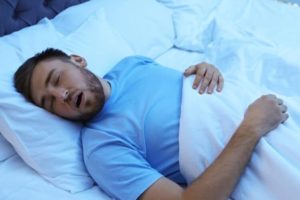 Every night, millions of patients miss out on countless hours of sleep due to sleep apnea—but what's even more unfortunate is the fact that several more cases remain undiagnosed and untreated! But sleep disruption isn't the only downside to this condition; not getting enough quality sleep every night can actually lead to all sorts of issues that affect your general wellness. Some of these conditions can even impact your average life expectancy! Here's more from your sleep specialist about sleep apnea and how it can pose a dangerous threat to your overall health.
What Is Sleep Apnea?
Sleep apnea is a sleep disorder that repeatedly interrupts a person's breathing as they sleep. It's often characterized by loud snoring and leads to daytime fatigue, among other symptoms. However, obstructive sleep apnea is the most common type of this condition, and it occurs when your airway becomes partially or fully blocked during sleep.
During these episodes, your diaphragm and chest muscles must work harder than normal to keep your airway open. Needless to say, this can radically affect your ability to stay asleep, since your body needs to repeatedly wake up to restore your normal breathing pattern.
Understanding Sleep Apnea's Impact on Life Expectancy
This fluctuation in oxygen levels caused by sleep apnea puts quite a bit of stress on the body, and over time, it can begin to take a severe toll on your health. Even just one or two nights without sufficient sleep can impede your day-to-day, and you'll experience side effects like low energy, lack of motivation, mood swings, and debilitating fatigue.
However, some serious conditions that have the potential to arise due to sleep apnea include:
Diabetes
Heart disease
Hypertension
Obesity
Metabolic syndrome
Liver complications
All of these conditions on their own can decrease life expectancy, meaning it's crucial to seek treatment if you're experiencing sleep apnea symptoms!
How Your Sleep Dentist Can Help
If you're diagnosed with sleep apnea, you're eligible for different types of treatments that are capable of managing your condition, restoring the quality of your sleep, and mitigating potentially fatal issues. One of the most common solutions is a CPAP machine, which involves a nasal mask worn during sleep that helps to keep the upper airway passages open and uninhibited. Oral appliance therapy is also sometimes utilized to assist with keeping the jaw open during sleep.
While the effects of sleep apnea can be somewhat discouraging, it's important to note that the condition isn't a death sentence. With a little knowledge and the help of your sleep specialist, you can easily manage the condition and get your sleep schedule back on track.
About the Author
Downtown Denver Sleep Solutions serves patients and families in the Denver area. Under the leadership of Dr. Gary Radz, they offer a wide range of services designed to treat and manage sleep apnea. If you have any questions about the article or you'd like to schedule a visit for you or a loved one, feel free to contact the practice online or over the phone for additional information: (303) 377-5337.