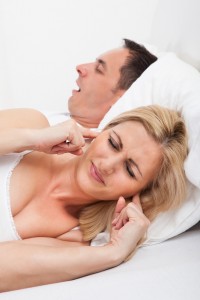 Loud snoring is a common issue that leads to problems between bed partners, often sending the hapless offender out of the room to spend the remainder of the night on the couch. Couples frequently argue over snoring and both parties typically get less restful sleep after all is said and done. Is snoring causing a rift between you and your partner? At the office of Dr. Gary M. Radz in Denver, CO, our team helps patients with excessive snoring find a sleep apnea treatment plan that fits their lifestyle.
Snoring: More Than Just a Nuisance
While the sounds of snoring are certainly obtrusive, the underlying cause of this annoying noise may actually be of more concern than many people understand. The sound we associate with snoring is actually caused by the vibration of air through the passages formed by soft tissues in the nose, mouth, and throat. When these soft tissues obstruct proper airflow during sleep, the patient may experience a lapse in breathing. This is known as sleep apnea.
Not all people who snore suffer from sleep apnea, but because the disorder itself is considered potentially dangerous to health, disruptive snoring should be evaluated by a qualified professional. If sleep apnea is the reason for your snoring, sleep apnea therapy from Dr. Radz can help.
Schedule Your Appointment Today
If you or your partner frequently experiences loud, excessive snoring and it is creating problems in your relationship, you're not alone. Fortunately, there are ways we can help. Contact our office today to schedule your consultation with Dr. Radz and our experienced, compassionate team today. We look forward to showing you what a difference sleep apnea therapy can make in your daily life. Our conveniently located office proudly serves patients from throughout Denver, as well as the surrounding areas of Aurora, Englewood, Lakewood, Greenwood Village, Centennial, and more.