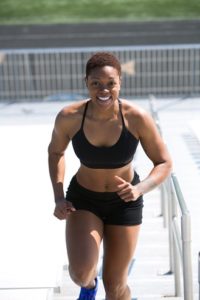 Regular exercise is important for your physical and mental health, but life gets pretty busy. Committing to a fitness routine can be difficult. However, if you're having trouble getting a good night's rest from sleep apnea, you may want to increase your physical activity. Research has found a link between better sleep and physical activity. You don't have to spend hours at the gym to harness the benefits. Instead, a short walk a few times a week can be all you need to improve your sleep apnea symptoms. Here's how to wake up alert and ready to start your day.
How Exercise Affects Sleep Apnea
Obstructive sleep apnea is a breathing-related disorder. An obstruction created by the tongue or soft tissues in the back of the mouth causes frequent breathing disruptions while sleeping. Sleep apnea is attributed to loud snoring, but that's not the only concern of the breathing-related disorder.
Every pause in breathing depletes your body of oxygen and interrupts your sleep cycle. You can experience a variety of symptoms, like morning headaches, daytime fatigue, mood changes, irritability, and memory loss. You can also have an increased risk of cardiovascular disease and other health problems with no treatment.
Anyone can develop sleep apnea, but some factors can increase your risk, like a large neck circumference and obesity. Regular exercise can reduce your risk of sleep apnea and improve your symptoms.
According to a study by the University of Pittsburgh's School of Dental Medicine, regular exercise can decrease daytime sleepiness, which can boost mental alertness and thinking clarity. The results of their study found that a brisk walk or weight training can reduce sleep apnea symptoms by up to 25%, even if there isn't a reduction in body weight.
You can stop tossing and turning at night and breathe better by taking a 30 to 40-minute walk at least 4 times per week. Not only will you support your sleep quality, but you can also combat certain issues associated with the disorder, like cardiovascular disease, heart attack, and stroke.
If your exercise routine helps you to shed a few pounds, it can further alleviate your sleep apnea symptoms. Overall, you'll boost your general health and quality of sleep by heading outdoors for some fresh air.
Managing Your Sleep Apnea
Although physical activity can improve your symptoms, it's not a substitute for sleep apnea treatment. A CPAP is the most traditional method of treating the condition, which delivers gentle air pressure through a mask worn over the mouth or nose. As an alternative, you may be a candidate for an oral appliance. It will keep your airway open, so you can breathe easier without any cords or hoses.
About Dr. Gary Radz
Dr. Radz is a reputable dentist in Denver for cosmetic dentistry and sleep medicine. He specializes in oral appliance therapy to help patients with sleep apnea breathe better. He is a proud member of many professional organizations, including the Academy of Dental Sleep Medicine. If you're ready to cut ties with your CPAP, request an appointment through our website or call (720) 903-1649.