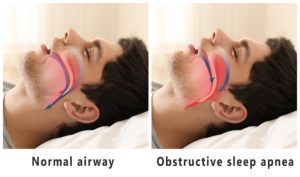 Obstructive sleep apnea (OSA) is a condition that occurs when the upper airway narrows while sleeping. The obstruction causes frequent pauses in breathing throughout the night. Not only does this interrupt your sleep quality, but it can lead to several serious health conditions without any treatment, like cardiovascular disease. Unfortunately, sleep apnea will not go away on its own. You can take certain steps at home to improve your symptoms, but they aren't a substitute for sleep apnea therapy.
Cause of Obstructive Sleep Apnea
There's not a single cause of OSA, and it can affect anyone, including children. However, certain risk factors can contribute to the onset of the condition, which can include:
Large Tonsils or Adenoids: Typically, this is more common in children. Removing the tonsils and adenoids can open the airway to improve breathing.
Allergies: Severe allergies can cause inflammation in the upper airway. Antihistamines and other remedies can help keep the nasal passages open.
Structural Abnormalities: Children with an abnormal hard palate can develop the breathing disorder. Orthodontic therapy to expand the palate can improve symptoms.
Improper Bite: Severe bite issues can make it difficult to breathe, which can be seen in teenagers and young adults. Jaw advancement surgery can move the jaw forward to open the airway.
Obesity: OSA is linked to obesity because the extra weight places pressure on the airway. Maintaining a healthy weight can prevent the airway from collapsing.
Large Neck Circumference: A large neck circumference is a risk factor for OSA. Losing weight can help decrease symptoms.
Poor Muscle Tone: Age or obesity can cause the muscles in the neck and throat to lose muscle tone. Myofunctional therapy can strengthen the muscles to improve their tone.
Treating Obstructive Sleep Apnea
While changes at home can help reduce sleep apnea symptoms, they aren't a substitute for traditional treatment. Leaving the condition untreated can lead to life-threatening complications. As you work to improve your lifestyle, it is best to see your sleep specialist for an effective treatment, which can include:
CPAP: A gentle stream of air pressure is delivered through a mask worn over the mouth or nose to maintain oxygen levels.
Oral Appliance Therapy: A custom-fit mouthguard is worn while sleeping to reposition the tongue or jaw to keep the airway open.
Surgery: In rare cases, your sleep specialist may recommend surgery, such as to remove large tonsils or correct a structural abnormality.
A good night's rest is possible with the help of your sleep dentist because the disorder will not go away on its own. It's best to turn to the expertise of a professional to protect your health and wellness. They will create a comprehensive treatment plan to breathe easier and sleep soundly.
About Dr. Glenn Thompson
Dr. Thompson earned his dental degree from the Tufts University School of Dental Medicine before continuing his education to focus on sleep apnea and oral appliances. He specializes in helping patients with OSA with sleep apnea therapy. If you are ready to breathe better, contact our office today to request your consultation.