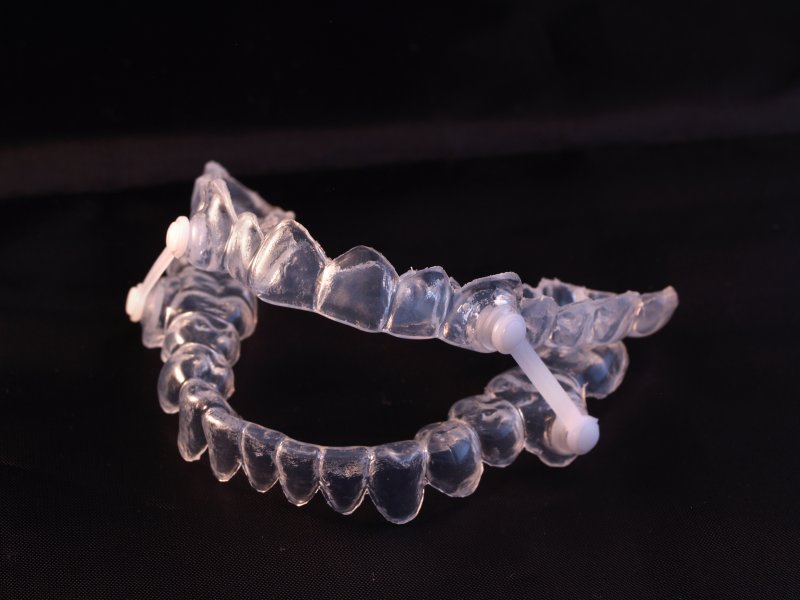 Once you start wearing an oral sleep appliance in Denver and start remembering what a full night's sleep really feels like, you'll want to make sure it lasts as long as possible. To do that, you'll need to make sure that you're performing regular maintenance on your appliance. This doesn't have to be a time-consuming, complicated process, though! The following 5 simple tips will go a long way towards keeping your oral appliance bacteria-free.
1. Before Wearing Your Appliance, Brush Your Teeth First
When you put on an oral appliance, any food particles, plaque, and bacteria that were still on the teeth will suddenly become trapped in place, and they'll remain their for the entire night. Not only does this give them a chance to attack the enamel, but it can also encourage bacteria to multiply. As such, your risk for cavities, gum disease, and other oral health issues will increase dramatically. To avoid these problems, take the time to brush your teeth for at least two minutes before you put your oral appliance in for the night.
2. Rinse It Off
There might still be a little bit of food debris or saliva on the appliance from the last time you wore it. In order to make sure it's as clean as possible before you wear it, rinse the appliance thoroughly and dry it off first. You want to keep the risk of trapping harmful substances against the teeth during sleep apnea treatment in Denver to an absolute minimum.
3. Make Brushing It Part of Your Morning Routine
You already brush your teeth every morning, so brushing your appliance as well shouldn't be a major change. Be very gentle with the appliance so that you don't scratch the surface; you should always use a soft bristled brush along with nonabrasive toothpaste or a clear antibacterial soap. There will be many surfaces that you'll need to pay close attention to, particularly the area where adjustments can be made.
4. Let It Air Dry
Instead of immediately shoving your oral appliance in a dark drawer, leave its container open on the sink to air dry. Dark, moist environments are akin to an open invitation for bacteria to grow, so it's better to keep the appliance out in the open until it dries off.
5. Soak It Regularly
It's recommended to soak your oral appliance at least once a week with a denture cleaner tablet to get rid of contaminants that you couldn't remove through brushing alone. You need only soak it for a few minutes before dumping out the water and drying the appliance off.
By taking just a few minutes out of your day to follow these tips, you can make your oral appliance last for years so that you can continue enjoy relief from sleep apnea in Denver and wake up in the morning feeling ready for the day.
About the Author
Dr. Glenn Thompson became interested in how dentists could help patients treat their obstructive sleep apnea in 2013. Since that time, he has extensively trained and completed hundreds of hours of continuing education in the field of sleep dentistry. Currently, he specializes in using sleep appliances to help people in the Denver area get a better night's rest. If you have questions about caring for your oral appliance, get in touch with his practice, Downtown Denver Sleep Solutions, by visiting his website or calling (720) 903-1649.