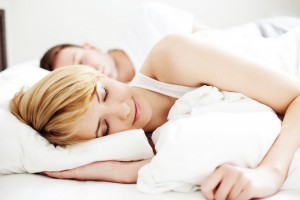 We spend a lot time on our blog talking about sleep apnea and snoring and how they're treated. But not everyone who has trouble sleeping at night struggles with sleep apnea or snoring. Some patients could simply benefit from following a few of these tips for getting a better night's rest.
First, pay attention to the foods or drinks you're consuming before bedtime. Eating too much or not enough can affect your quality of sleep, as can drinking caffeine or alcohol. Even just drinking too much water can stand in the way of truly restful sleep.
Having a pre-bedtime routine and going to bed at the same time every night can also help. Maybe you like to take a bad or shower before bed, or you enjoy a soothing cup of chamomile tea. Whatever it is, a routine will help your brain recognize that it's time for bed. Meanwhile, your sleep schedule will help you get a consistent amount of sleep each night.
Just as important, make sure your room is dark enough to trigger the brain's release of melatonin, the hormone that helps us sleep. And it will help to invest in pillows and a mattress that you're truly comfortable on. A lumpy pillow or a mattress that's not supportive enough will make it difficult to get comfortable and could lead to soreness in the morning.
Have you tried following these steps, but you still can't seem to sleep well at night. Talk to Dr. Radz of Denver. During your appointment, he can ask you questions about your quality of sleep and whether you struggle with any sleep apnea symptoms. He can also schedule a sleep test for you that will help us determine if you need care for sleep apnea.
We're happy to serve patients from Denver, Englewood, Aurora, Lakewood, Greenwood Village, Centennial, and nearby areas.