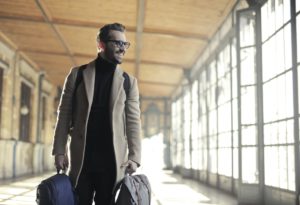 If you've been diagnosed with sleep apnea, your bedtime routine includes your oral appliance. It's the perfect, convenient, and effective solution to treat mild-to-moderate sleep apnea without the restrictions of a CPAP machine. If you'll be heading out of town, don't deviate from your nightly routine. Here's how to make traveling with sleep apnea in Denver easier, so you can sleep peacefully.
1. Check the Airline's Guidelines
If you'll be taking a plane, you need to do more than just purchase your tickets. You should also check the airline's guidelines to ensure there aren't any rules or regulations to bring your oral sleep appliance in Denver through security. Be sure to pack it in your carry-on bag, so you don't need to worry about it potentially getting lost with your luggage. Not to mention, you can get some rest on the plane without feeling embarrassed by your snoring.
2. Take Cleaning Products with You
You know you need to pack your toothbrush and floss, but don't forget to include your oral appliance's cleaning products in your travel kit. Even if you're only away from home for a few days, bacteria can grow on the oral appliance quickly, which can lead to unpleasant odors and dental issues. It's best to continue to clean the device daily to keep your smile healthy.
3. Pack the Storage Container
If you don't keep your oral appliance in its storage case when it isn't in your mouth, you can easily miss place it or even accidentally toss it into the trash. Don't take the risk of damaging or losing your oral appliance. Keep it in its storage case when you're not wearing it, so you always know exactly where it is. Not to mention, you'll prevent cross-contamination when placing it on a bedside table or bathroom counter.
4. Bring Your Own Pillows
Although hotel pillows might seem nice and fluffy, they can make it more difficult to breathe for some sleep apnea patients. You can avoid tossing and turning at night by bringing your own pillows. You'll have a little bit of home with you while also ensuring you'll breathe better to sleep soundly.
5. Stick to Your Treatment
Although you won't be at home, you must comply with your treatment plan. Even a night or two without your oral appliance can affect how you feel throughout the day. You won't have to risk being exhausted during your vacation by wearing your oral appliance nightly.
Whether you're traveling for business or pleasure, don't forget to pack your oral appliance. You'll keep your airways open to ensure you're getting the sleep quality you need to feel your best.
About Dr. Glenn Thompson
Dr. Thompson earned his dental degree from the Tufts University School of Dental Medicine before continuing his training in sleep apnea. He offers advanced solutions using oral appliances, like SomnoMed in Denver. If you're ready to cut ties with your CPAP, contact our office today to see if you're a candidate for oral appliance therapy.