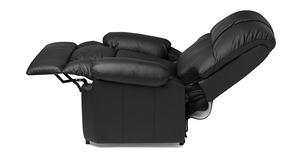 People who have sleep apnea tend to try all kinds of things in an effort to keep their condition under control and enjoy a better night's rest. However, some methods of dealing with this sleep disorder are less obvious than others. For instance, did you realize that sleeping in a recliner may make a difference in the quality of your slumber? Here's what you need to know about this approach to reducing sleep apnea symptoms.
How Sleeping in a Recliner Helps When You Have Sleep Apnea
Sleep apnea is often linked to the soft tissues in your throat. If these tissues become too relaxed while you're asleep, they can end up collapsing and blocking airflow. Whenever your breathing is interrupted, your body is forced to wake you up briefly to try and get some oxygen. The frequent awakenings combined with recurring drops in blood oxygen levels can take a devastating toll on your health.
However, if you sleep in a recliner, you may find that sleep apnea episodes don't occur as often. This is due to the fact that your head is at an angle, which lowers the risk of tissues in your throat causing an obstruction of the airway. According to a 2017 study, even a small degree of head elevation can go a long way toward improving sleep apnea symptoms.
The Best Way to Sleep in a Recliner
Of course, when you're used to snoozing in an actual bed, sleeping in a recliner might feel strange at first. There are a few things you can do to make sure you're as comfortable as possible. Use a small pillow to give your lower back the lumbar support it needs, and make sure your feet stay raised. Temperature can affect your ability to get quality sleep, so be sure to use the right number of blankets.
Alternatives to Sleeping in a Recliner
If you can't or don't want to sleep in a recliner, the next best thing to do is to make some small changes to the way you sleep in bed. For one thing, you can use an extra pillow to make sure your head stays raised; you may also want to consider switching to an adjustable mattress. If you tend to sleep on your back, try to switch to sleeping on your side instead.
It's always best to get an expert's opinion before trying to deal with sleep apnea on your own. Be sure to talk to your sleep dentist about your disorder and see what changes they recommend for making your nights more restful.
About the Author
Dr. Glenn Thompson earned his dental degree at the Tufts University School of Dental Medicine in Boston. At a certain point in his career, he became very interested in treating sleep apnea with customized oral appliances, and his current practice – Downtown Denver Sleep Solutions – focuses on this type of treatment. To schedule a consultation with Dr. Thompson, visit his website or call (303) 377-5337.